Another Pear Top is in our kite bag and flew in April. These are intensive appliqué projects but it is something I truly enjoy. Our first pear top kite was made in 2006 for Bob's Christmas kite. Now it is joined by the Parachute Lady, La Crinoline Parachute. Take a look at the drawing from the book cahiers 2, au fil des vents (photo 1). I removed many of the leaves and berries which form the border (photo 2). Since the drawing was in black and white, I chose my own colors. Then Bob showed me a photo of an original La Crinoline kite (photo 3). Dang. Well, I decided to stick to my colors anyway. It is a replica, not a duplicate of the original.
photo 1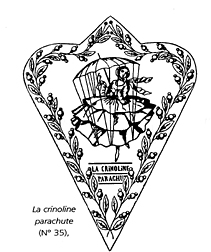 photo 2
photo3
Ta Da! Our replica La Crinoline Parachute kite:
We have several inquiries about our Pear Tops. I have made another little web page showing Bob's sticking methods. You are welcome to send an email if you have questions. We will try to help.
We each made a kite at Ft. Worden this year. Bob took Karl Longbottom's class and I spent 2 days with Rainer Hoffmann. During a visit to the ocean in April, the swan flew all day in about a half mile hour of wind. I think we were just pretending the wind was blowing a lot of the day!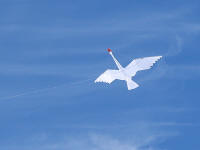 One of the new displays at the World Kite Museum in Long Beach was paper kites, many by Alox. We found a very funny fellow we just had to add to our "Hi-Flier" collection. Mickey is one of the designs sold by Alox. He came on both the diamond kite and a 3 stick version, too. He is an appliquéd kite. His hair was a tedious job. Mickey has freckles, too; lots of freckles. I painted them on his adorable face with a small brush and exterior house paint containing Teflon. Welcome, Mickey!
We remade Mickey Mouse, one of the 6-legged ball guys this year. Neither of us liked the ears. They just did not look as we wanted them to. Not wanting to retire him, we gave him a base ball cap. Much better! Happy, happy. And here he is...